Wedged between Uptown and Lakeview, Buena Park is a quiet and cozy escape from city life.
Residents enjoy tree-lined streets, historic homes, and premium access to Lake Michigan. Local businesses bump up the coziness including welcoming coffee houses, belly-warming eateries, and comfy neighborhood pubs.
With Wrigleyville, Boystown, and Uptown just a few blocks away — top restaurants, live music, and vibrant nightlife are at your disposal. Nearby lakeside parks and beaches means spending time in nature can be an everyday event.

Buena Park is located 6 miles north of the Loop. Getting around the city is a breeze with Lake Shore Drive and the CTA Red Line!
Buena Park Neighborhood Guide
Buena Park is a quiet, cozy area. The surrounding areas, however, are among Chicago's most exciting.
To the northwest, Uptown is among the city's most vibrant entertainment, shopping, and dining areas. To the South, Wrigleyville and Boystown are two of the most active nightlife districts in the city. Wrigleyville, of course, is the home of The Chicago Cubs.
A Bite to Eat
Buena Park may be a small neighborhood, but it has its fair share of great eats. Along Sheridan and Montrose Streets, you'll find walk-in cafes, restaurants, and sit-down eateries. Try out Bo Jone Pizzeria, Dollop Coffee Company, and Hunan Egg Roll King.
Nearby Uptown features one of the most diverse restaurant scenes in the country featuring cuisines from all across the globe.  Looking for a recommendation? Favorites include Tank Noodle, a novice-friendly Vietnamese restaurant, and Demera, for authentic Ethiopian cuisine.
Buena Park Shopping

Shopping in Buena Park proper is somewhat limited. In the small neighborhood, one can find a Jewel grocery store, specialty retailers, and convenience stores. That said, the surrounding area has a surplus of great options.
Anchored by a two-story Target, neighboringUptown has an active shopping scene. The area has developed into a destination, known for its local boutiques and specialty grocery stores.
One new shop, Milk Handmade, was named as 2012 Best New Boutique. The store focuses on handmade women's clothing and accessories. Baan Home, featuring reasonably priced antiques from across Asia, and Foursided, an eclectic gift shop, are other popular stores. One can also find several bookstores and galleries in the area.
What's Nearby?
Be it live music, theater, or drinking and dancing, you can find great culture nearby. While its 1920s heyday is gone, Uptown remains a cultural hotspot. There's a lot to love, but its specialty might be live music. The Aragon Theater and its smaller cousin, the Riviera, host touring musicians and bands from a variety of genres. The Green Mill Jazz Club, open since 1910, puts on live jazz seven nights a week in its retro-decor room.
Buena Park is also located in the midst of some great theater. To the north, the Black Ensemble Theater and The Neo-Futurist Theater are two of Chicago's favorite local companies. Movie buff? Check out the historic Music Box Theater for independent and foreign films.

And while nearby Wrigleyville and Boystown are Chicago-wide nightlife destinations, Buena Park itself has that category covered. The Holiday Club is a great local bar and club, with a 90s themed dance party and a retro-styled bar. It even serves brunch on weekends!
Local events bring the community together. In nearby Cricket Hill Park, the community puts on a series of summer outdoor concerts. The neighborhood association pits on the Annual Neighborhood Festival, featuring a pop-up cafe, live music, family-friendly activities, and architectural tours.
Nature!
Perhaps the best thing about living in Buena Park is the easy access to green space and nature. In the summer, the area takes on the feel of a beach town, with easy breezes from the lake taking cutting through the heat of a Chicago summer. Find your way across Lake Shore drive and you'll be in Lincoln Park. The park is a Chicago gem: featuring beaches, harbors, sports fields and plenty of green space. And, of course, just a walk around the lovely area is always a relaxing treat (ok, maybe not in the dead of winter!).
Buena Park History
Early Buena Park
Buena Park was originally settled by German and Swedish farmers in the 1840s. In the 1860s, the picturesque area attracted a number of wealthy Chicagoans. One property, the "Buena Estate", became the neighborhood's namesake. When Robert Waller sub-divided his property and developed it for less affluent Chicagoans, the population began to grow. Buena Park, with all of Lake View County, became part of Chicago in 1889.
Uptown's Heyday
In the early 20th century, the Uptown area began to flourish as an entertainment destination. Icons like Marilyn Monroe, Frank Sinatra, and even Al Capone were known to frequent the area's top theaters, clubs, and movie studios. Nearby Buena Park became a haven for affluent folks looking for a quiet place near Uptown's excitement. In these years, many apartment buildings went up and the neighborhood became more densely settled.
Modern Buena Park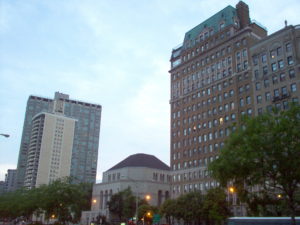 With the Great Depression ending the roaring 1920s, Buena Park went through some challenging years. With a housing shortage following World War II, many historic houses and apartments were subdivided. Buena Park experienced decline until it was listed on the National Register of Historic Places in 1984. Since, significant efforts to restore the area have taken place, including many upscale renovations and restorations. Today, Buena Park offers residents an affordable, historic beachside neighborhood.
Buena Park Homes
Buena Park features an attractive mix of home types and styles. Buyers and renters enjoy the area's historic (and renovated) condos and apartments and the assortment of single-family homes. The area as a whole is quite affordable, but the single-family homes can reach into the $1 million range. The neighborhood also includes the Hutchinson Street Historic District, featuring a number of Prairie-style residences, some designed by famed architect George W. Maher. Along Marine Drive, one can find a number of high-rises and townhomes, including many units offering stunning lakefront views.
Just a short walk from the lakefront, Buena Park offers a cozy, almost-suburban feel within the heart of Chicago. With tranquil, leafy streets and historic architecture, the neighborhood is a favorite lakeside retreat for buyers and renters who want the excitement of the city, but without the noise and chaos. Come and check it out!